SOUPS ON!!!!
Fall time and soup go hand in hand. Butternut Squash Soup is a wonderful Fall time Soup. The beauty of it is you can do so much with it butternut squash! Sweet, Nutty, Creamy, and Cheesy… this selection covers it all!
Rich and Creamy Butternut Squash Soup – Vegan, Low Carb, Gluten-Free
This is the richest and creamiest Vegan Butternut Squash soup recipe you'll find. The perfect Fall soup and it's low carb and Gluten-Free!
Check out this recipe
Black Bean Butternut Squash Stew – Healthier Steps
Black bean with sweet butternut squash and collard greens make this healthy stew so hearty and comforting!
Check out this recipe
Roasted Butternut Squash Soup Recipe (Coconut Milk) – Vegan, Whole30
Easily make a big bowl of roasted butternut squash soup that is made with coconut milk and other healthy, Whole30, vegan, and Paleo ingredients.
Check out this recipe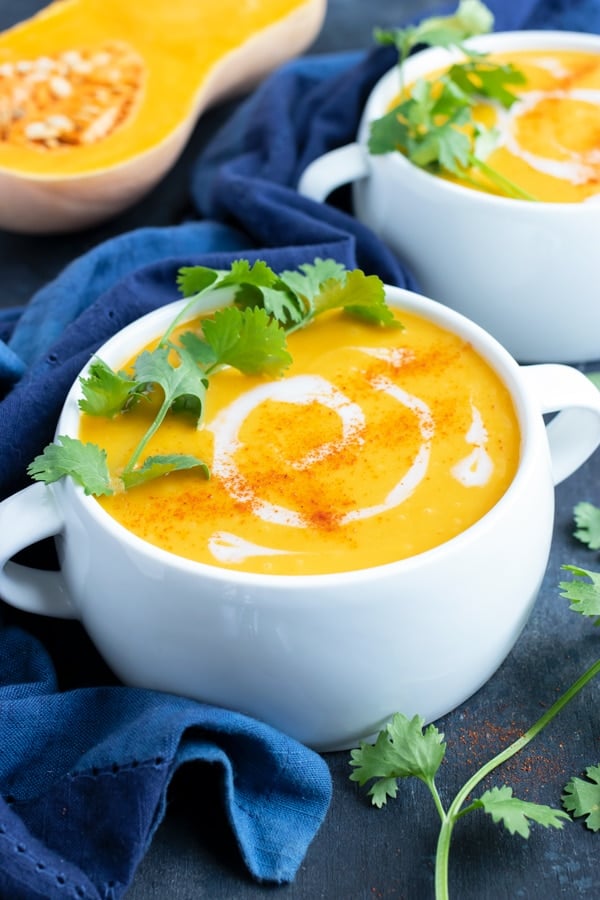 Butternut Squash & Apple Soup with Rosemary | Sprint 2 the Table
This Butternut Squash & Apple Soup with Rosemary is made with simple fall ingredients. It's a creamy, naturally rich blend of sweet and savory flavors!
Check out this recipe
Inspiration, Motivation and Coffee are great ways to start the day!
These are updated through the week with a little life. Interesting grocery finds, Holidays, Reviews, National Days, Recipes and everything in-between.
Check back everyday for more malarkey morning moments…. click the button
ZERO F***S. This would be my number one parenting advice. Listen and gather the advice of others but you need to do what works for your family… you do you. Stay strong and figure it the f*** out! Subscribe to the blog – today!
Follow us as we celebrate life…
My name is Tabitha and this blog is about my family and our life. We are always looking for inspiration and nonsense to keep us going… one day at a time… one celebration at a time. I am just another mama with no sick days and no days off trying to juggle family, life, wellness, getting dinner to the table while raising good humans and staying mentally sound.
Stop by the blog in the morning for cup of inspiration.
---
RECENT POSTS
come check them out
RECENT GROCERY STORE SOUP FINDS